What to consider when selecting a touchscreen monitor
Touchscreen monitors are becoming more popular with the rise of laptops and tablets. While touchscreens can add a lot of ease when using a device, you need to make sure to choose the right one for your needs. They allow you to interact with your computer in a whole new way. They can help you be more productive, while they can also provide more information. With touchscreen or portable monitor technology becoming more popular, you have more options when it comes to the best touchscreen monitor for your needs. This blog will look at the different aspects of touchscreen monitors and how you can select the right one for your needs.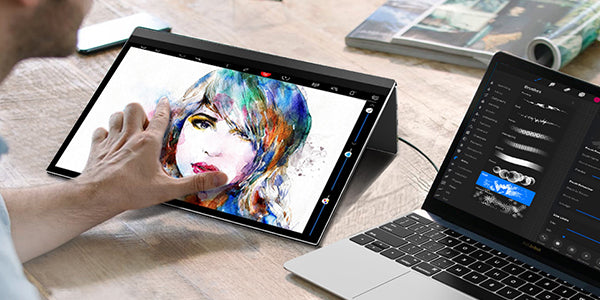 Why Touch Screen Monitor?
A touchscreen monitor is a device that allows you to control the computer by touching the screen instead of using a keyboard or mouse. It is a screen that has a layer of touch-sensitive electronic pixels. They are also known as a touch screen monitor. The touch screen monitor is a relatively new technology that has seen a great deal of advancement in recent years. That being said, touch screen monitors have been around for a very long time. You might have used one at a bank or a museum or at a store or even at a restaurant. It is a great way to interact with a computer. In fact, with the development of touch screen monitors, we are now seeing the end of the keyboard and mouse era. Touch screen monitors are being more and more integrated into the computer system. It is also starting to be used as a replacement for a computer mouse.
What are the advantages of Touch Screen Monitor?
Touchscreen monitors are a great option for anyone who wants a monitor that has extra features. Touchscreen monitors can do more than just display things on your computer. These monitors can actually help you to navigate your computer and do things. Touchscreen monitors are not only great for the visually impaired, but they are also perfect for anyone who wants a more interactive experience with their computer. Here are a few advantages of touch screen monitors or portable touch screen monitor: Saves space , eliminates the need for a keyboard, New Control Methods,  while travelling makes it easier to use.
What are the different types of touch screen monitors?
Touchscreen monitors are popular these days, with many brands offering touch screen monitors for sale. When you look at the features and specs of the monitors, you will find that there are a lot of them which are quite similar from a technical perspective. However, there are a few key differences which you will want to look at to ensure that you are getting the best touchscreen monitor for your needs. One of the most important things to look at is the compatible operating systems. Most monitors will have either Windows 7 or Windows 10, but others will have the older Windows XP. It is also important to look at the size of the monitor. Most of the monitors on the market right now have at least 15- or 17-inch screens. This is because they are cheaper to produce. However, they are not that portable and they can also be harder to use in smaller spaces. If you want to use the touchscreen monitor in a smaller room, you may want to look for a monitor with a smaller screen.
How much do touch screen monitors cost?
Touchscreen monitors are definitely becoming more common these days. When you're shopping for a computer monitor, you'll need to decide if you want a touchscreen monitor or just a basic one without a touchscreen. Touchscreen monitors are great for office use and for watching videos. But how much do touch screen monitors cost? Touchscreen monitors are more expensive than regular monitors. The good news is that touchscreen monitors come in a variety of sizes and a variety of prices. You can find a touchscreen monitor for less than $100. You can also find touchscreen monitors for $1,000. It all depends on the size and features.
About Uperfect: 
UPERFECT was founded in 2017 as a brand based on decades of experience and research, with the express purpose of educating people on how to upgrade their displays to 4K resolution and improve their lives with our portable touch screen monitor. We at UPERFECT MONITOR understand and are completely committed to solving real-time challenges experienced by persons all over the world by delivering high-quality, personalised current technology monitors with professionalism, decency, and respect.
Conclusion: 
When selecting a touchscreen monitor or portable screen, you should consider the size of the monitor, the operating system compatibility, the touchscreen technology and the touch features, what you will use it for, and the warranty and customer service offered. A touch screen monitor is a great addition to your office and can be used for a variety of tasks. We hope this article helped you better understand what to consider when selecting a touchscreen monitor. If you have any more questions, 
please contact us anytime at https://www.uperfectmonitor.com/
---