15.6-inch work monitor provides more convenience for work. It is very light and can be placed in a backpack at will. Whether it is in the office, at home, or on a trip, it can complete urgent work tasks anytime, anywhere. Let the track of life and work no longer rush.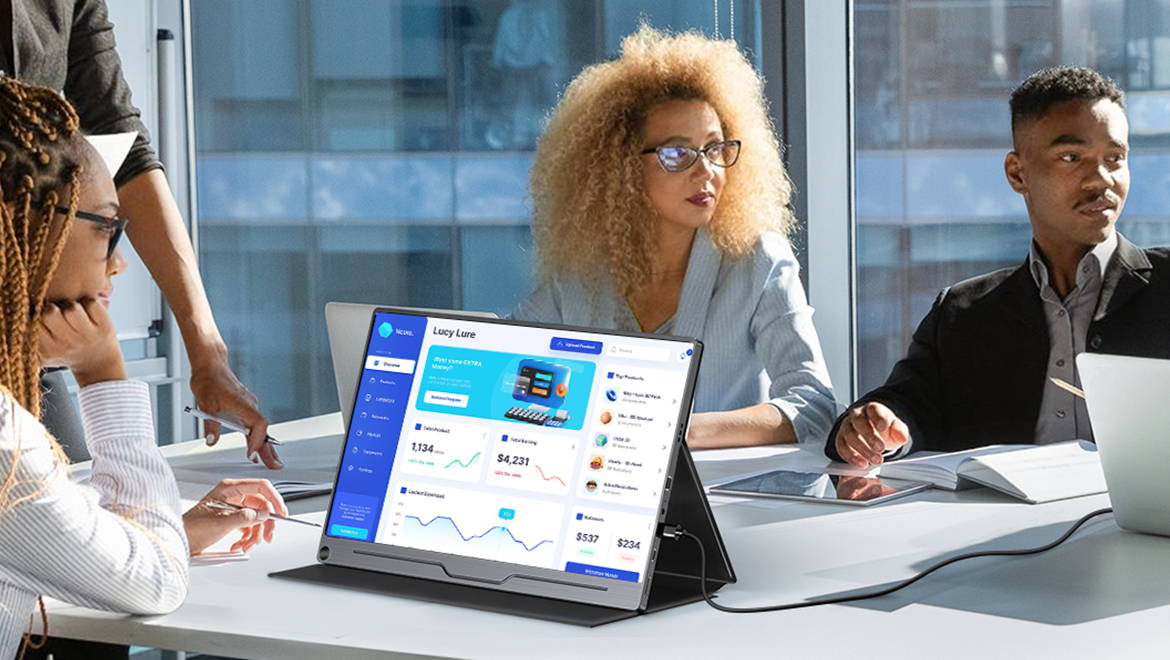 More Efficient Communication
When meeting with colleagues or collaborator, single laptop screen will affect the communication efficiency. 15.6-inch FHD work monitor can perfectly expand the laptop, so that everyone participating in the meeting can devote themselves to the meeting and keep up with meeting content, improve meeting efficiency.
15-inch work monitor can minimize the work troubles during the trip, and real-time work can be realized with only one cable. No matter where you travel, work will not become a stumbling block to travel, solve various work tasks in time, make whole trip will not be troubled by work.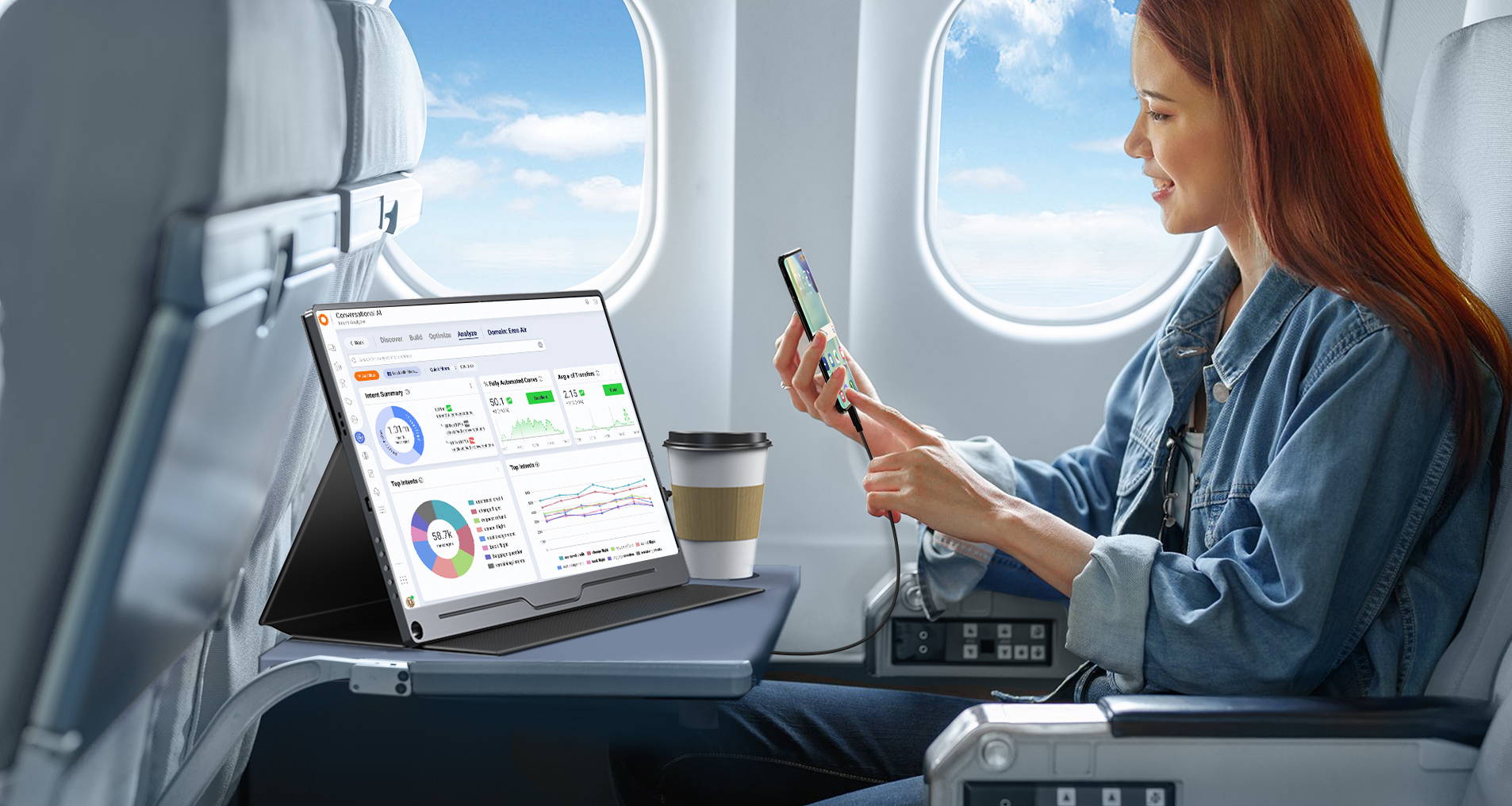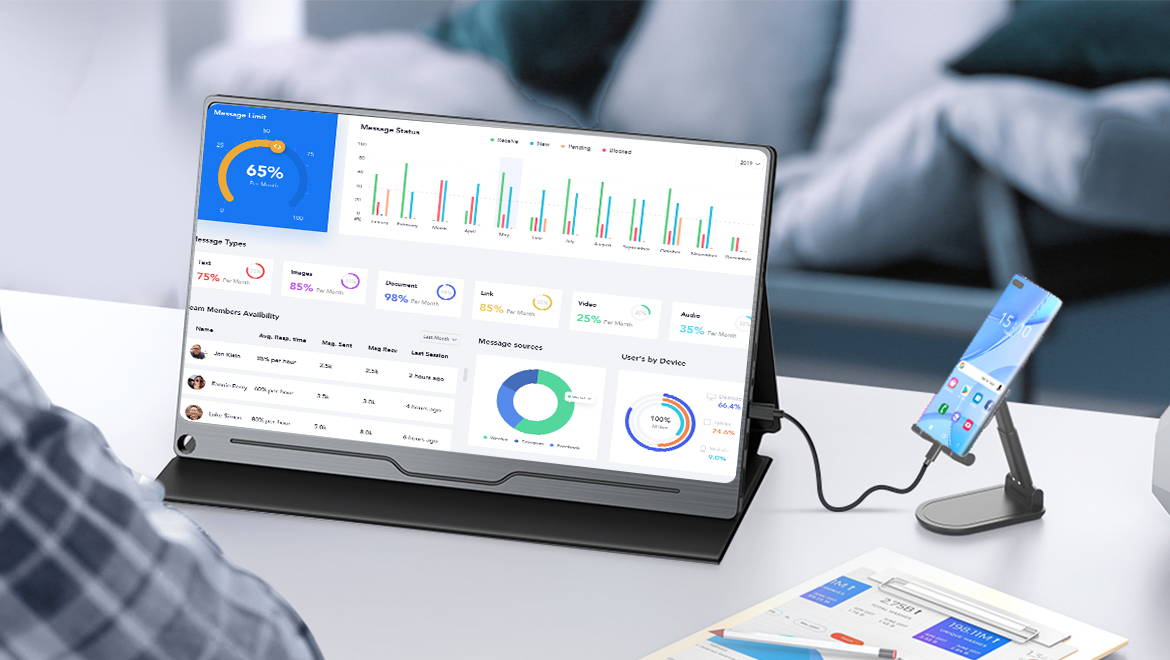 Monitor Working from Home
On weekends, even if there is an emergency at work, 15.6-inch work monitor can perfectly solve the problem of work at home, without having to go back and forth between the company and home. FHD monitor working from home makes you spend every weekend of your own leisurely.
Restore Your Colorful Life
At present, the increasingly heavy work will gradually compress your own working time. You want to go out for a trip, but you don't have enough time, but it's hard to spend the boring time at home. 15.6-inch work monitor can enrich your life and bring more entertainment, more colorful to life.
Exercise Easily Even at Home
When using a smartphone to open a sports APP, the small screen makes it easy for the eyes to ignore the content on the screen and cannot even keep up with the rhythm of the exercise. 15.6-inch work monitor can expand the screen of the smartphone very well, making exercise more focused, and even at home, you can easily exercise a good physical fitness.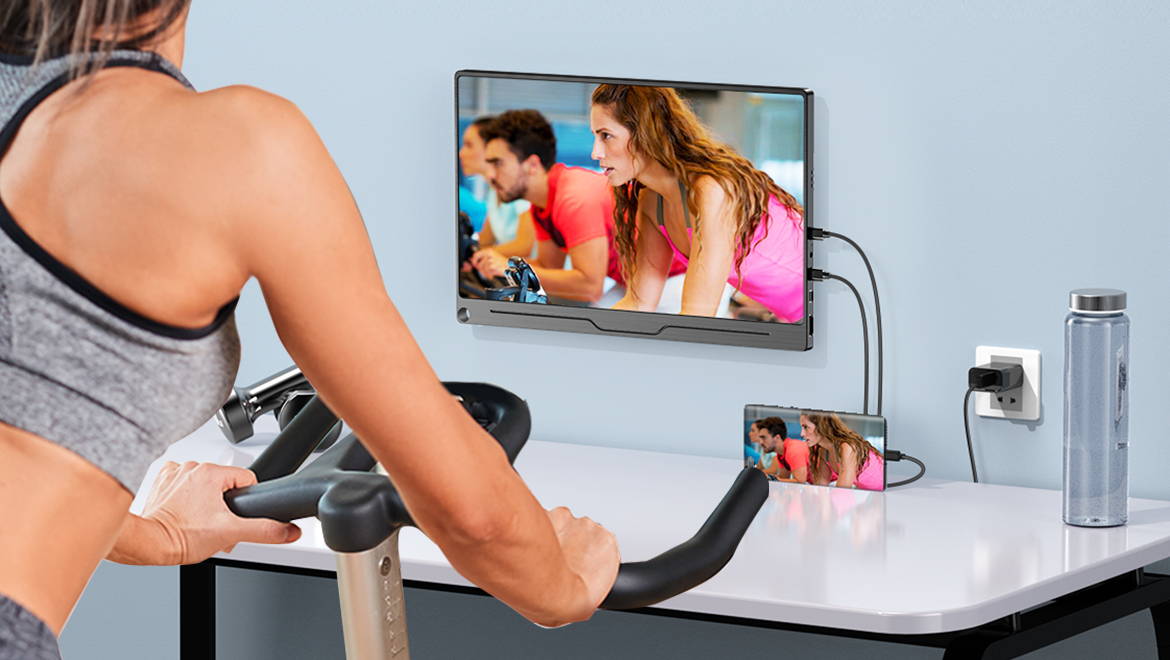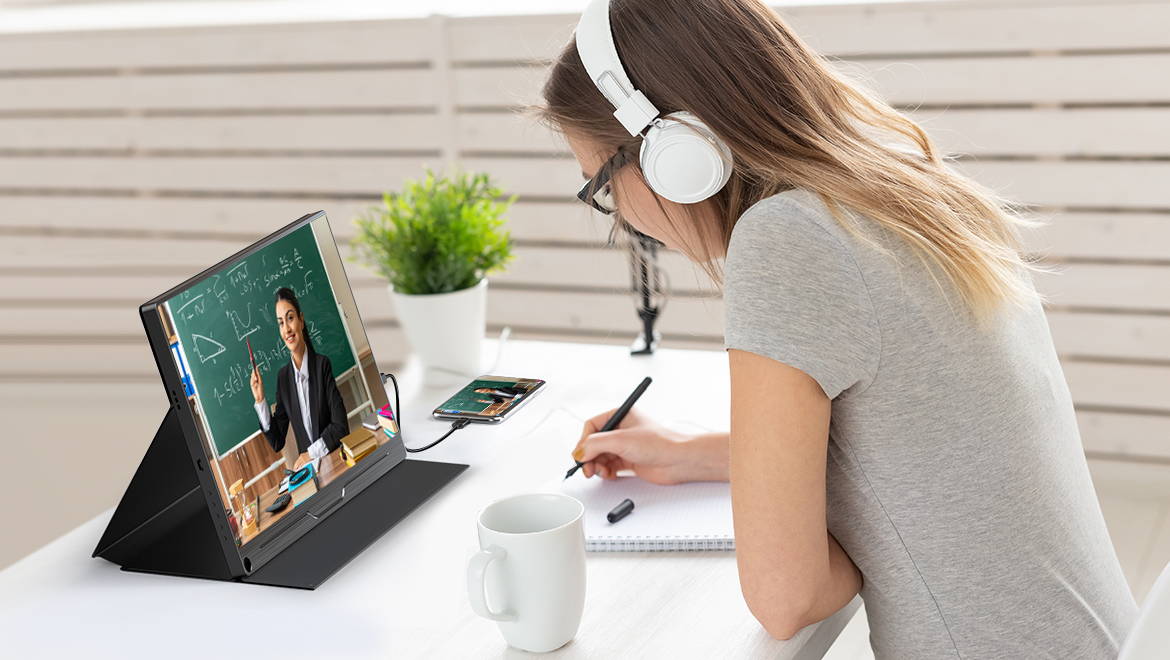 Same Efficiency as School
Using smartphones to take online classes, the small phone screen often leads to inattention, which affects learning efficiency. 15.6-inch 1080P work monitor can expand the smartphone, making the screen content clearly visible, making it easier to take notes and quickly improving learning efficiency.
Games Make Life More Fulfilling
When you have a lot of free time at home and feel boring, I think the 1080P work monitor will definitely bring you a happy time, whether it's games, movies, social apps, live broadcasts, competitive games, etc., it can meet your needs, making your everyday very fulfilling.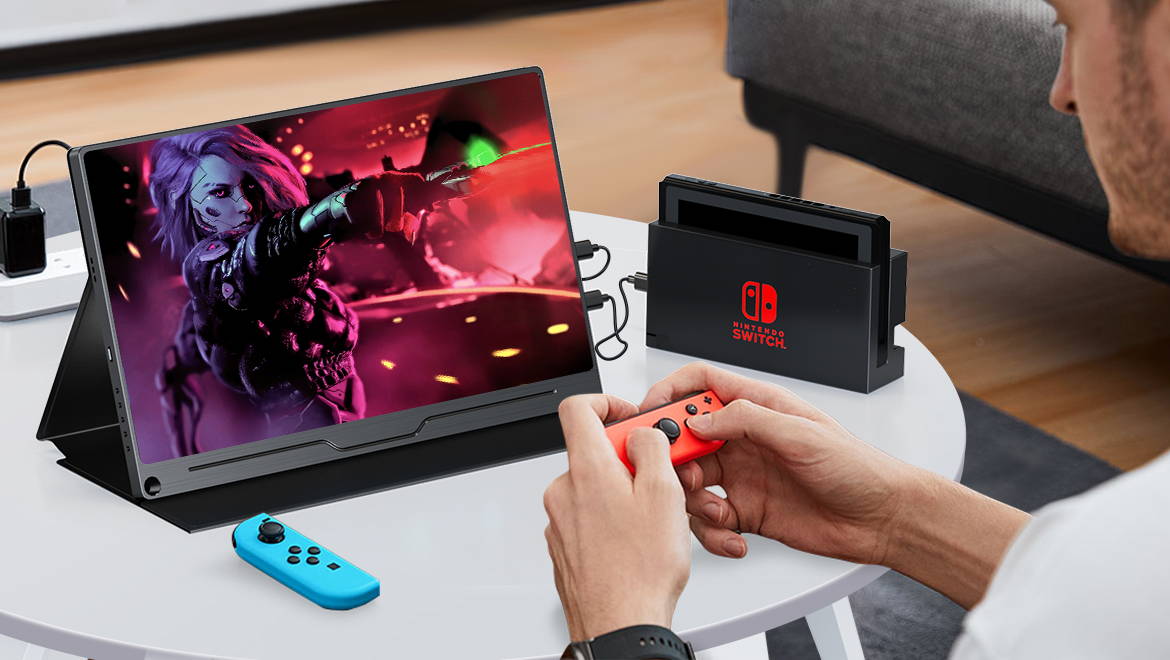 Flexible Design Frees Your Hands
1080P work monitor adopts two standing methods, allowing the display to be at an optimal viewing angle, completely releasing the pressure on your hands and neck, and making your neck and hands no longer tired even if long hours of work, making your work more efficient.
Humanized Foldable Leather Case
The smart foldable leather case with magnetic attraction can fit the display better, then make the monitor working from home better stand on any smooth surface. Smart cover is lightweight, very convenient for putting in bag and achieve work anytime, anywhere.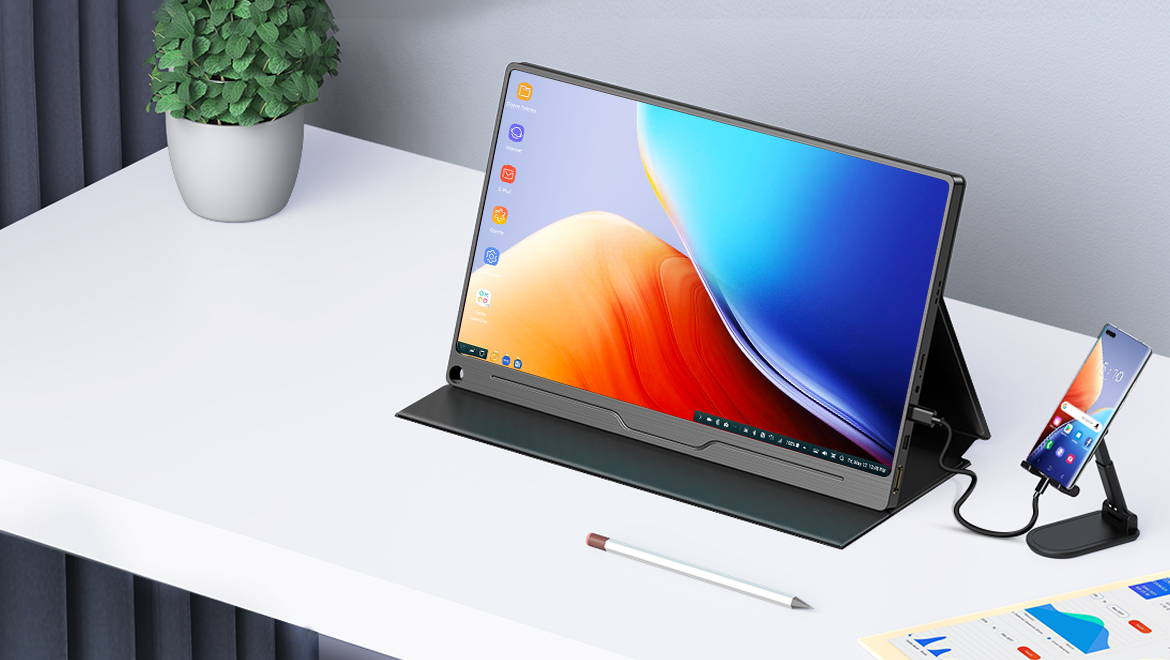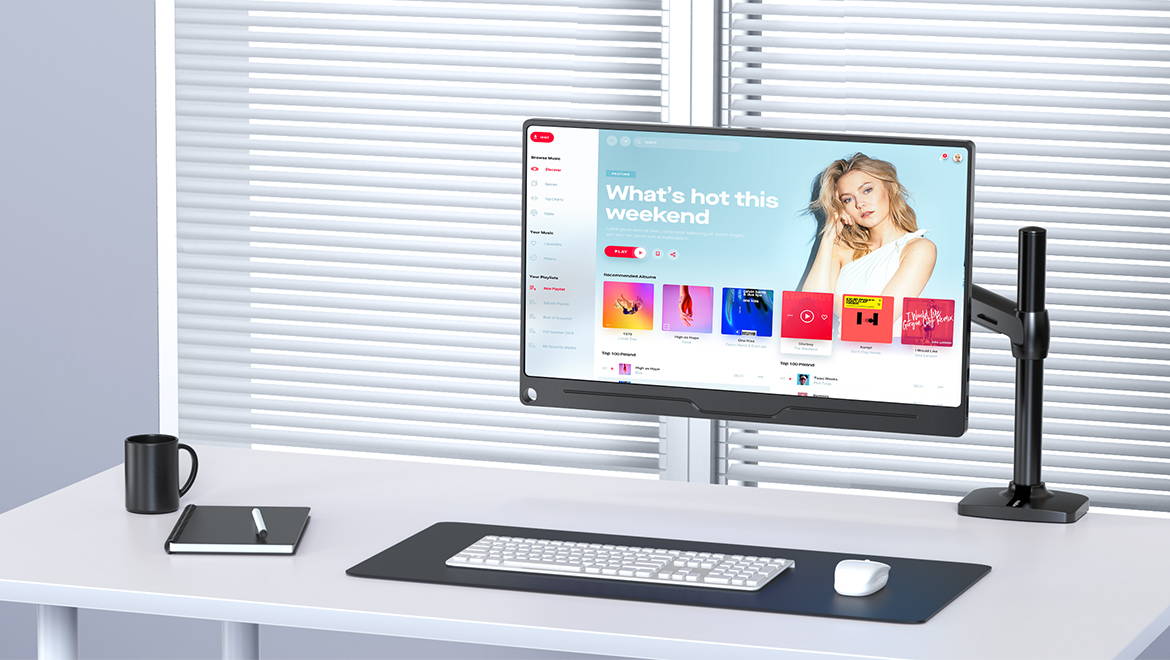 Easy and Practical VESA Mount
If the smart cover meets the need of portable working, the VESA design is bound to meet the need of working from home. you can install the work monitor on the desk or wall, save the desk space, make the desk looks tidy, also make the eyes and neck in the best view angle, reduce the body exhausted.
More Powerful
Beyond Your Imagination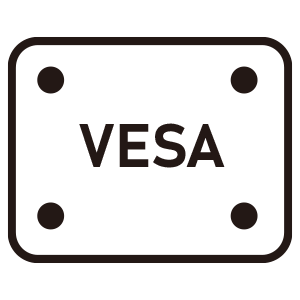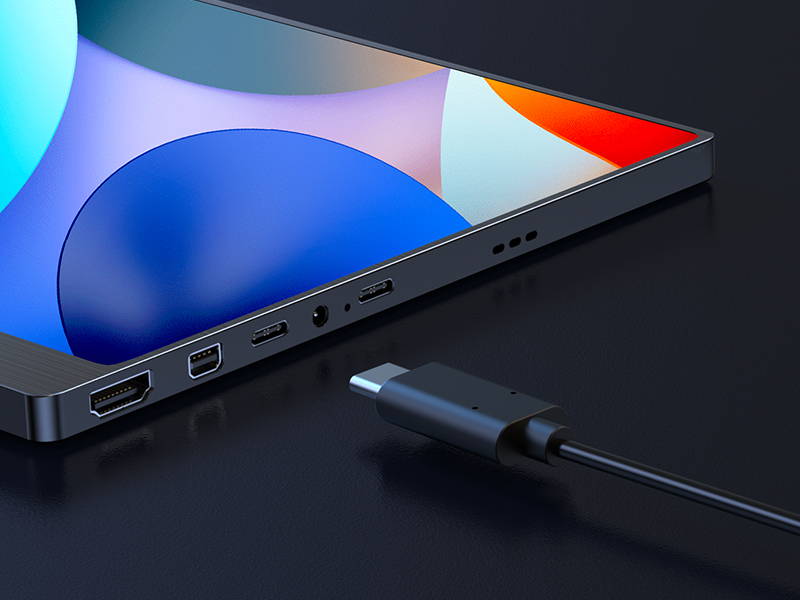 Equipped with HDMI, full-featured Type C and mini DP port, realize high-definition transmission of video signals. Perfect for phone, laptop, computer, PS4, PS5, Switch, Xbox, steam deck, etc.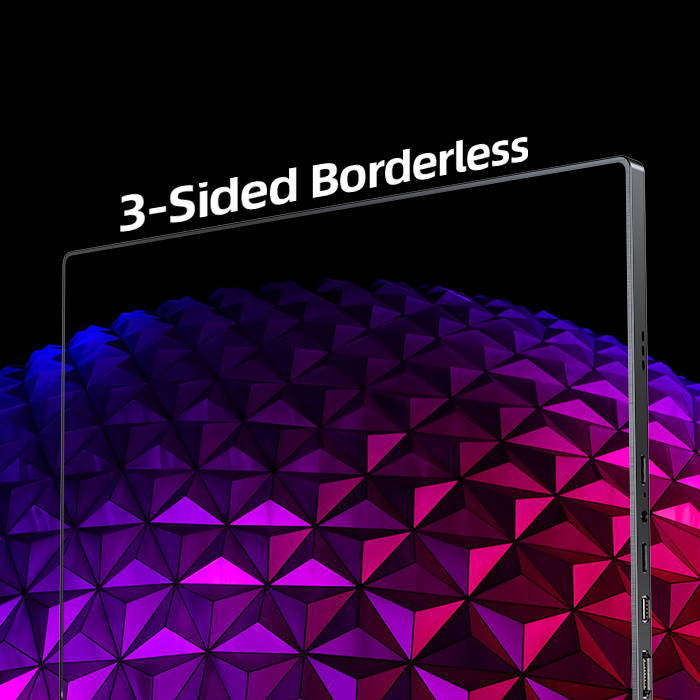 The three-sided narrow-edge design makes the field of vision wider, and the content on the screen can be seen at a glance, bringing eye-catching visual enjoyment.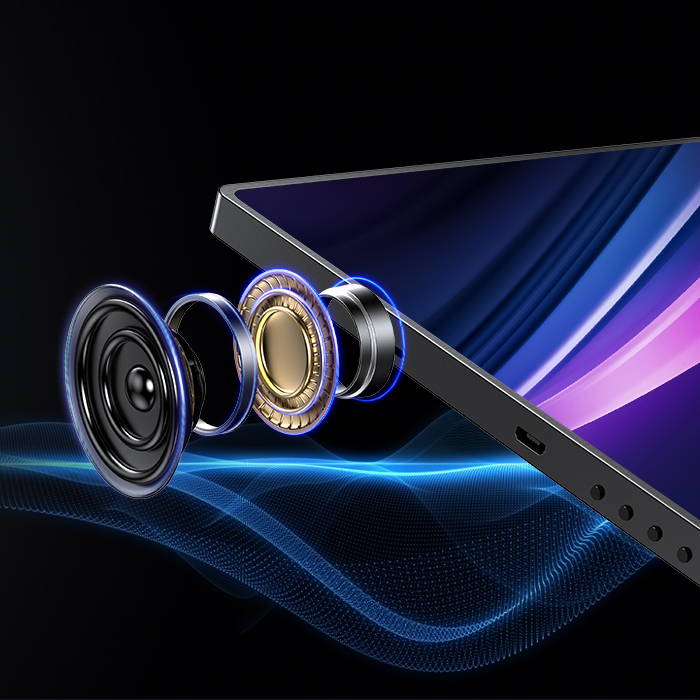 Built-in dual 8Ω 1W speakers, super high quality stereo output, providing clearer sound quality. 3.5mm headphone jack output audio from concerts and games offers stunning stereo sound.
Shipping 2-7 days from oversea warehouse or 15-25 days by international express.
Gain peace of mind with support in 24 hours and 2-Year Warranty
Take it home and enjoy them with no hesitate. Contact us within 30 calendar days for returns without hassle.
Shoppay is availble for 4 interest-free payments.
Join us on Instagram, share your set up and tag us, win discount or even cash back!