Know before buying, or simply place an order and test is by yourself, because we have 30-day RISK FREE Trial!
Designed for an Ideal Desktop
Are you still worried that computer displays cannot meet the outdoor needs? UPERFECT 18 inch PC monitor can meet all your needs for a desktop screen. 1.12 kg (2.47 lbs) weight has unimaginable portability. You can use 18 UMax for work, games, and movies or take it with you for outdoor, etc. No matter what you can imagine, 18 inch HDMI monitor can satisfy creativity beyond imagination.
Unburdened Computer Monitor
1080p HDMI monitor adopts three-sided narrow frame design, which are also 18 inch monitor. This 18 UMax has a smaller volume and is more portable. The bracket-free design not only save the space utilization, but also saves the trouble of installation and improves the user experience.
Monitor Hidden in Your Bag
HDMI monitor weighs only 1.12 kg (2.47 lbs) and is as thin as 7 mm (0.28 inch), lighter and thinner than other desktop monitors. The integrated design of the body is very convenient to put in your bag, UMax PC monitor is more convenient to carry and saves space than monitors with a stand base.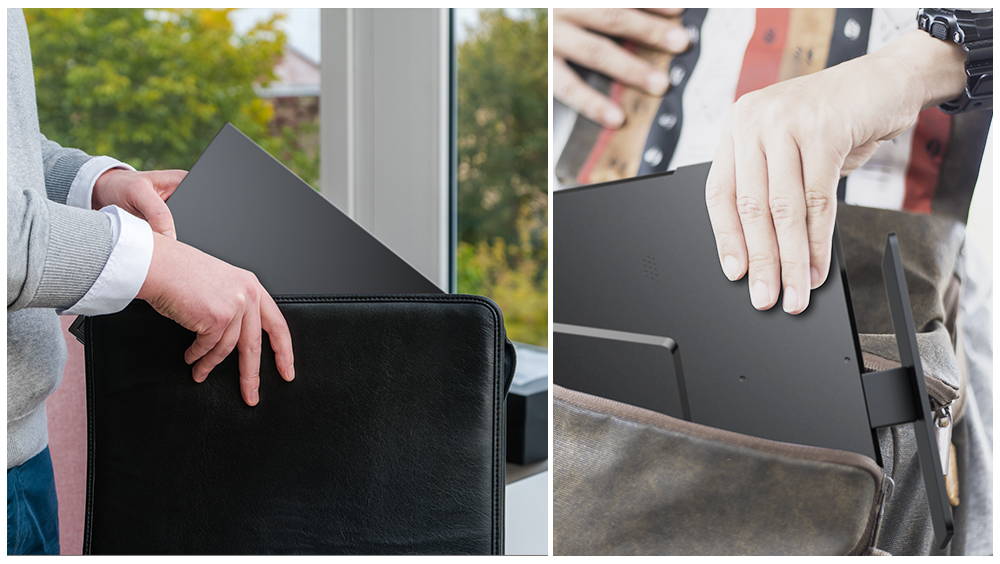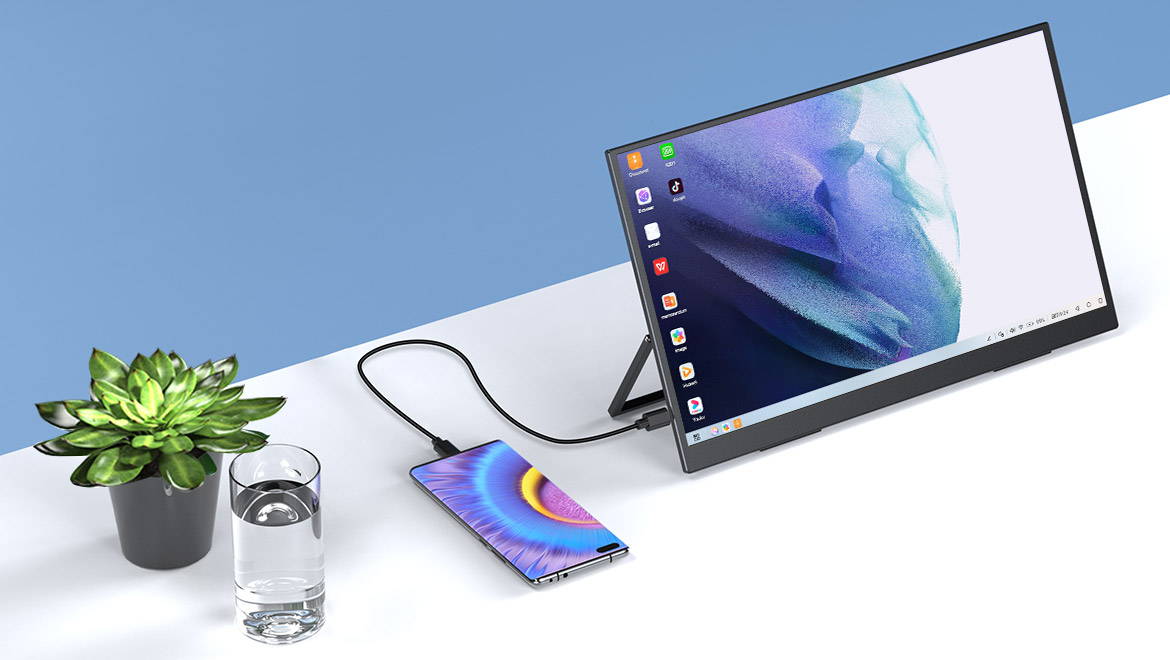 18 inch monitor can expand the screen of the device very well, so that the small screen can also be converted to a large screen easily. 18 inch large screen can better display work, games, learning, design creation and other content, providing great convenience for life and work.
You can use this 18 inch monitor in different spaces, at different times, and for different needs, lay it directly on your lap to watch movies, and use the back stand to place it on the table to play games. When you use it in a fixed place, you don't need to carry it outdoors. You can directly install 18 UMax HDMI monitor on the wall or on the bracket, which saves desk space.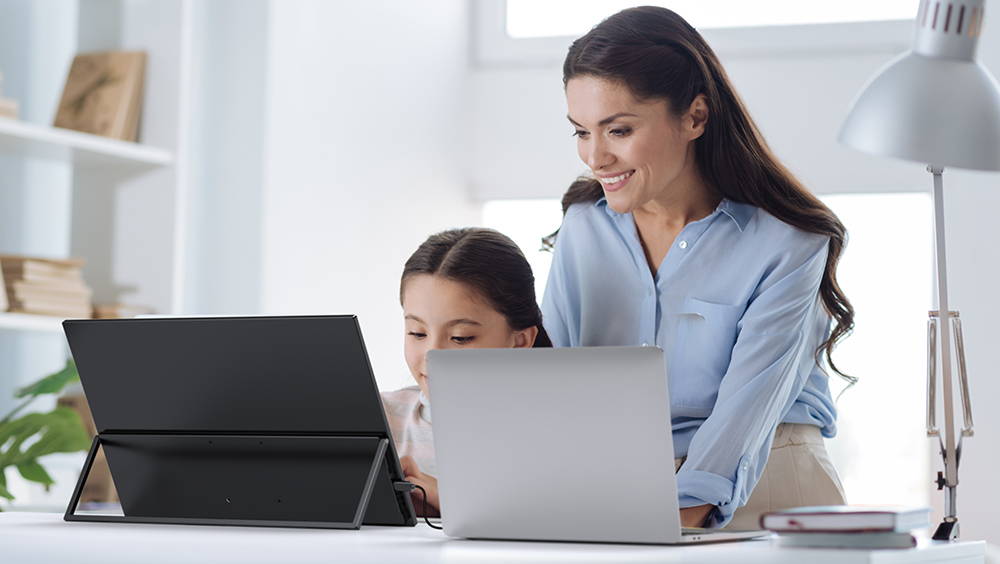 This 18 inch monitor has a built-in stand on the back, which can be rotated 180°. You can adjust the angle of the bracket according to your own posture so that you can see the screen with the best vision.
There are four VESA holes (M4*4mm, 75*75mm) on the back of this device, you can install it on the wall or on a bracket for fixed use, 18 inch portable monitor with stand saves your desk space to put more devices, which can form a better collaboration with the computer.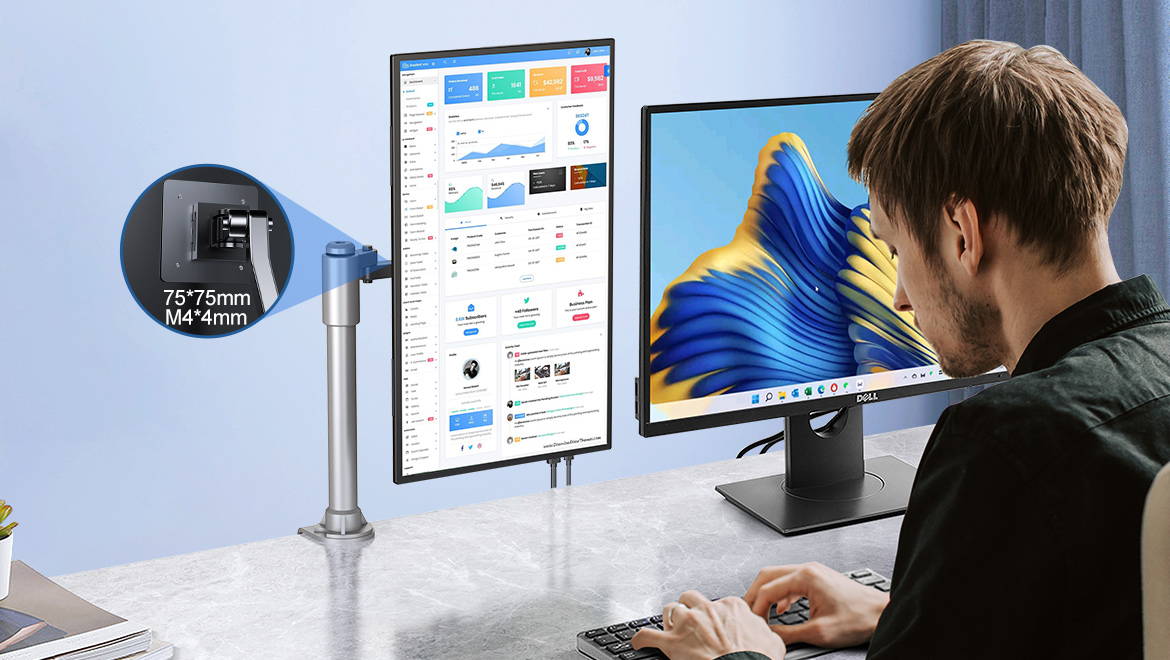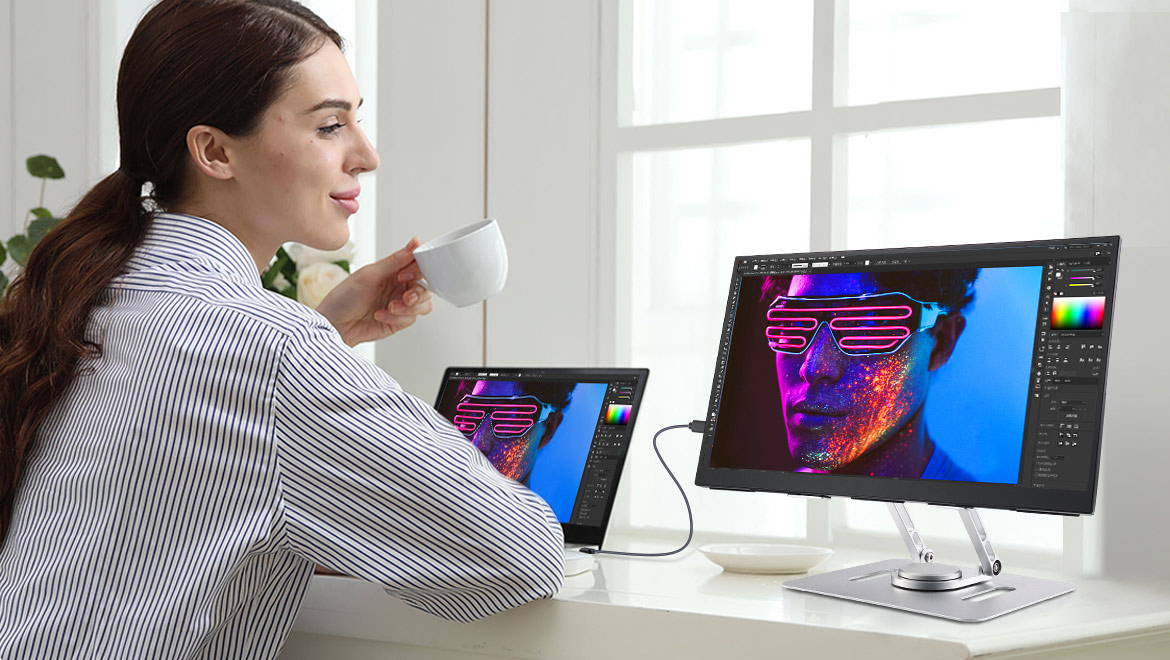 Equipped with Adjustable Stand
Portable monitor with stand is different from the above two use methods, the separately equipped Aluminum stand gives users more choices. 18 inch monitor with HDMI has three adjustable angles, allowing users to adjust to the most comfortable angle when working, which can improve user's work efficiency.
If you want to buy the adjustable stand separately, please
click here
.
Enjoy Contents with One Cable
The 18 inch portable monitor HDMI display has a user-based thoughtful design, and the rich interfaces make users no longer worry about device compatibility issues, allowing the 18 inch monitor with HDMI to fully utilize its value and increase its investment value.
Portable Monitor HDMI Compatible
Built-in mini HDMI port. At present, most devices are compatible with HDMI interface, which greatly expands the scope of application of 18-inch HDMI monitors and doubles the user experience. 18 inch HDMI monitor is suitable for common laptops, computers, game consoles and other equipment.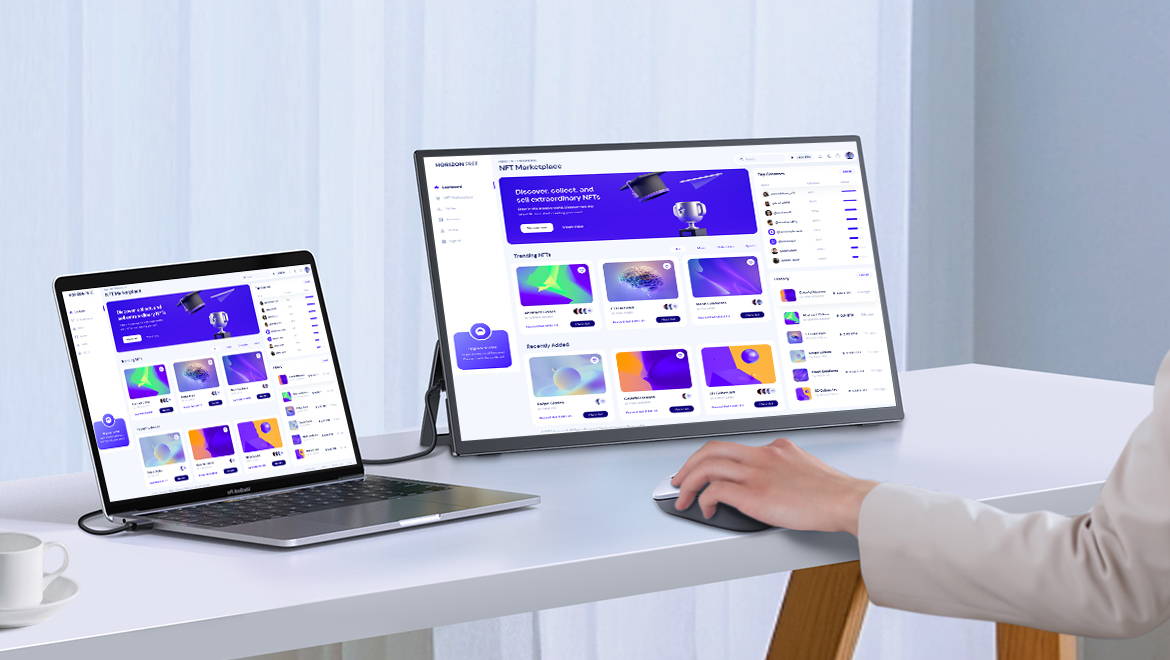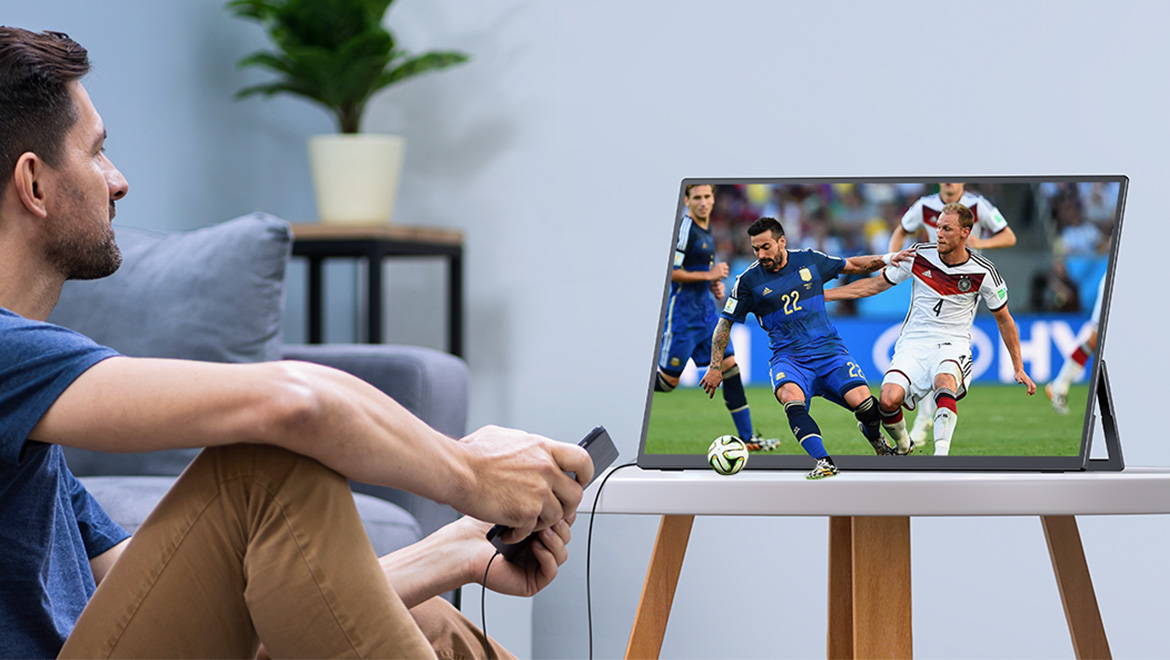 Portability Brought by Rich Ports
Most computer displays do not have USB-C port, but this 18-inch PC monitor has type-c and mini HDMI interface. 18 inch monitor with HDMI which can easily realize signal transmission with various devices, such as Computer, Laptop, Phone, PS4, PS5, Switch ,Tablet, Camera, Camcorder, DVD player, etc.
UPERFECT 18 inch PC monitor features an Ultra-thin IPS Panel with 178° viewing angle at 1920x1080 Full HD resolution. 1000:1 contrast ratio makes the display more vivid, 18-inch portable monitor HDMI display can make the content of the computer clearly and vividly displayed.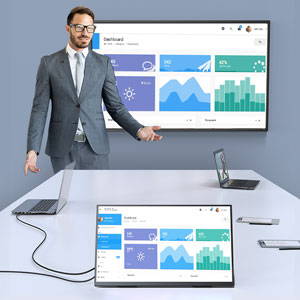 18 UMax not only can be used for computer but also laptop, especially meeting screen sharing, which can improve work efficiency. Portable monitor HDMI display is a good work partner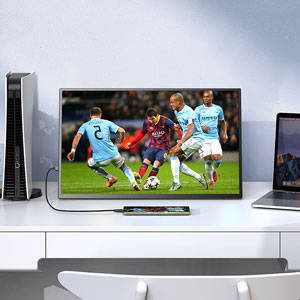 1080P computer monitor with 100% sRGB has 16.7M (8bit) colors, allowing you to fly in the world of colors, experience the visual impact brought by colors, and restore the most real color world.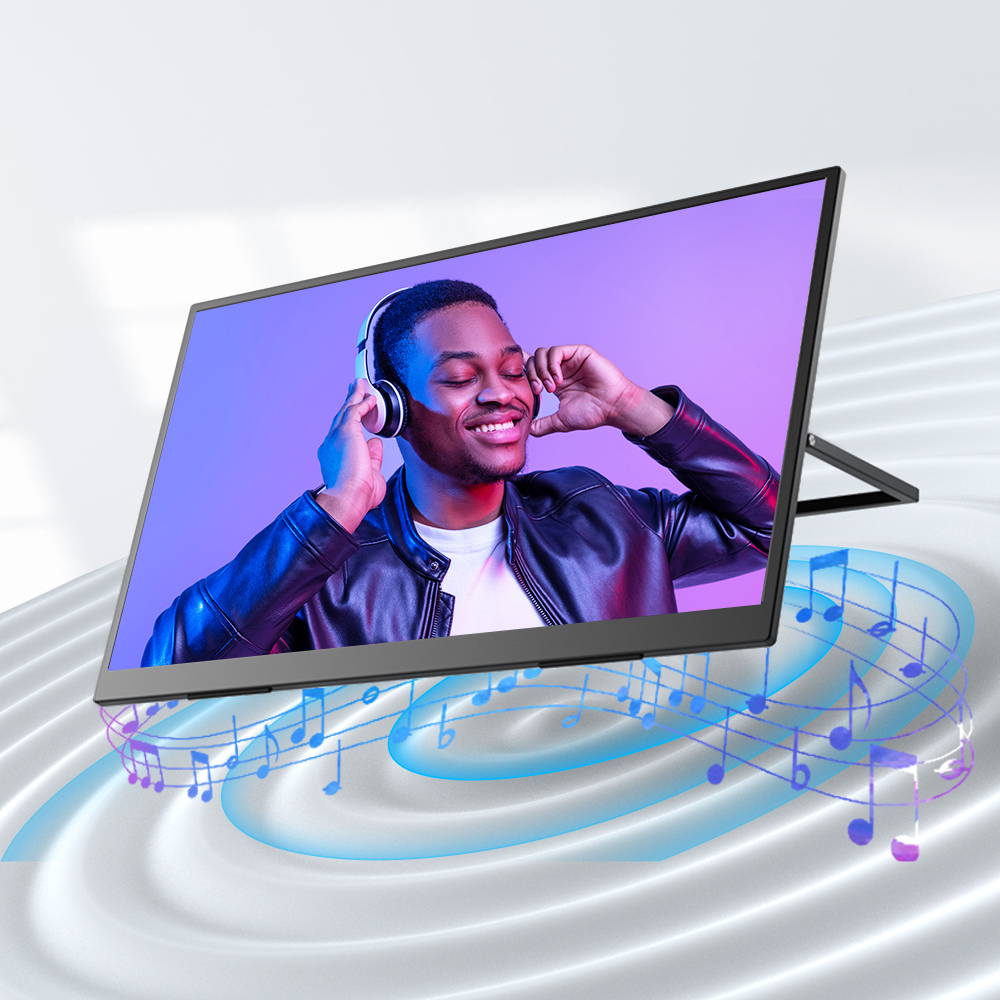 Portable monitor HDMI display built-in dual 1W 8Ω speakers, allowing you to have a great audio experience while on the movie, and a 3.5mm headphone jack for plug-and-play connectivity to a variety of multimedia devices.
More Powerful
Beyond Your Imagination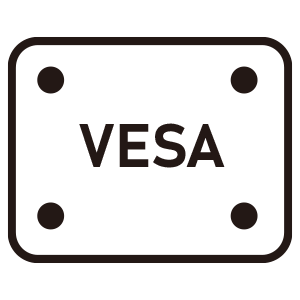 LapDock Must Have Accessories
Shipping 2-7 days from oversea warehouse or 15-25 days by international express.
Gain peace of mind with support in 24 hours and 2-Year Warranty
Take it home and enjoy them with no hesitate. Contact us within 30 calendar days for returns without hassle.
Shoppay is availble for 4 interest-free payments.
Join us on Instagram, share your set up and tag us, win discount or even cash back!
Any question? Fill out the form below to send us your questions and we'll be happy to help.
My mobile phone is Samsung S20, can I use this 18-inch display?
Yes, it can perfectly match samsung dex through type c.
I often travel on business, but it is inconvenient to work with a mobile phone. Is it convenient to work with a mobile phone with this monitor?
If your mobile phone supports the USB3.1 protocol, it is very convenient to use. You only need a type C cable to realize the small screen to large screen.
I often use a mouse and keyboard for work, can this monitor be connected to a mouse and keyboard?
Yes, this 18-inch monitor is equipped with a Micro USB-B OTG port, which can be connected to a mouse and keyboard.
What ports does this monitor have?
There are five ports, 2 × Full-Featured USB Type-C (for Audio&Video Input & PD Power Input&Output), 1 × mini HDMI for Audio & Video Input, 1 × USB Type-C OTG for USB Drive or Keyboard and Mouse, 1 × 3.5mm AUX for audio output. You can connect it to your phone, laptop, switch, PS4, PS5,etc.
Can I make the monitor display differently when plugged into my laptop?
Yes, after the laptop is connected to the monitor, press window+p to select the working mode of the monitor, you can choose the expand mode, so that the two screens will display different content.