Know before buying, or simply place an order and test is by yourself, because we have 30-day RISK FREE Trial!
14 Inch Laptop Monitor Extender
Generally, in order to meet the needs of portability, the display size of the laptop is limited to a certain extent. For users who need to handle multitasking, the laptop is no longer satisfied with the demand. The 14-inch laptop triple monitor perfectly solves this problem, expand laptop to three screens, and double work efficiency instantly.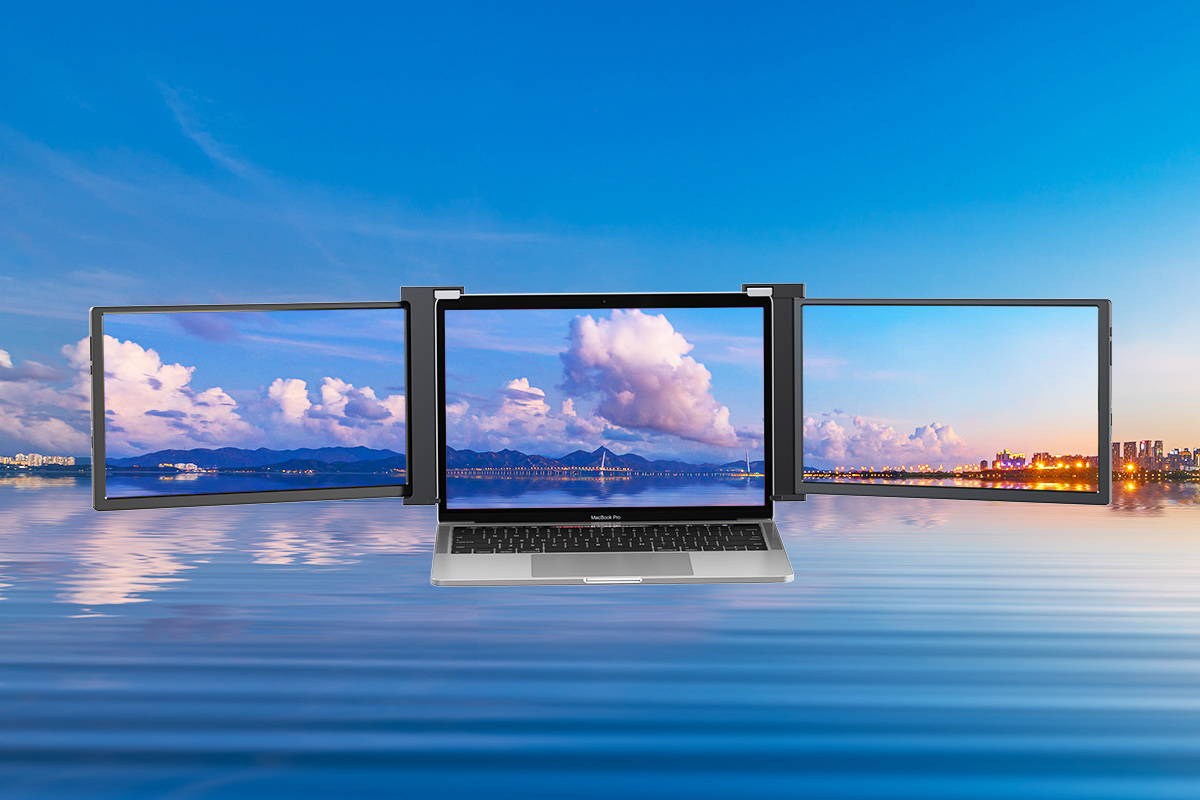 Easy Set Up Laptop Triple Monitor
Triple screen laptop monitor is easy to set up your triple screen portable laptop workstation, simply hook laptop extra monitor up to the top of the laptop screen. The back bracket holder can help to the display attached to laptop without falling off. Easy installation, quick use of the desktop, and increased productivity.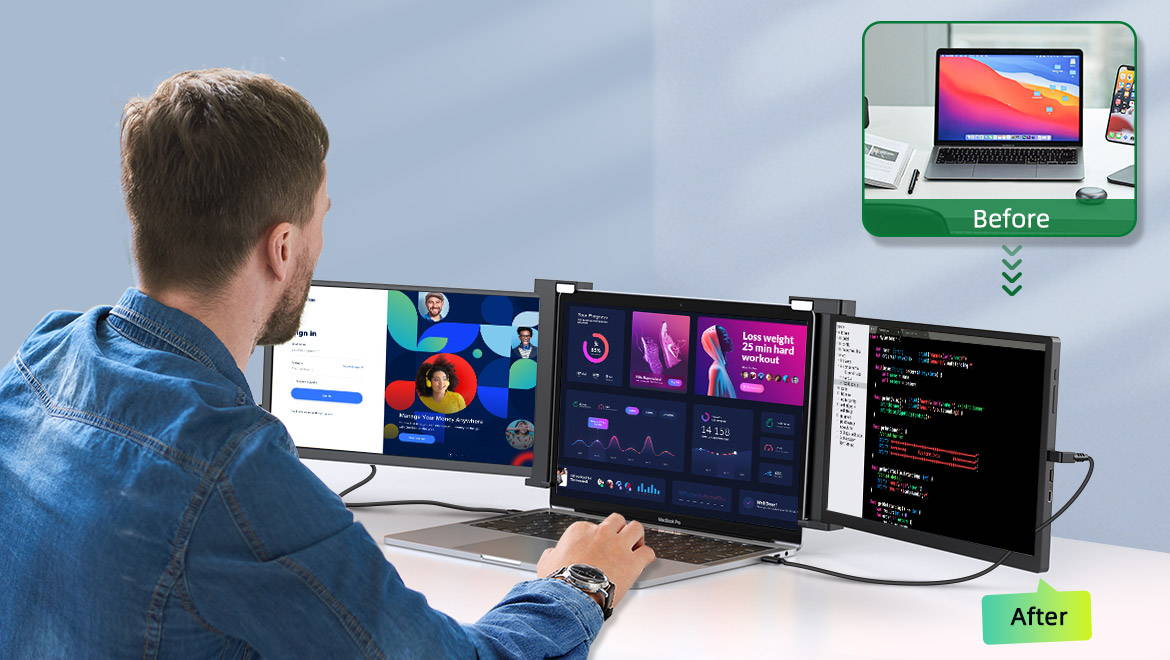 The 14-inch laptop monitor extender can turn the laptop into three screens in seconds, and run multiple working windows simultaneously on triple laptop screen to ensure productivity up to 200% +and double productivity, also double the value of investment.
UPERFECT Z 14 laptop tri screen is compatible with mini HDMI, USB Type-C 3.1, and Thunderbolt 3.0 or later. To achieve a successful portable experience, the USB-C cable is upgraded to L shape, perfectly fitting your desktop. conveniently adjusts the laptop monitor extender setting with different buttons.
Note: make sure your laptop's USB-C port meets the requirement before connecting.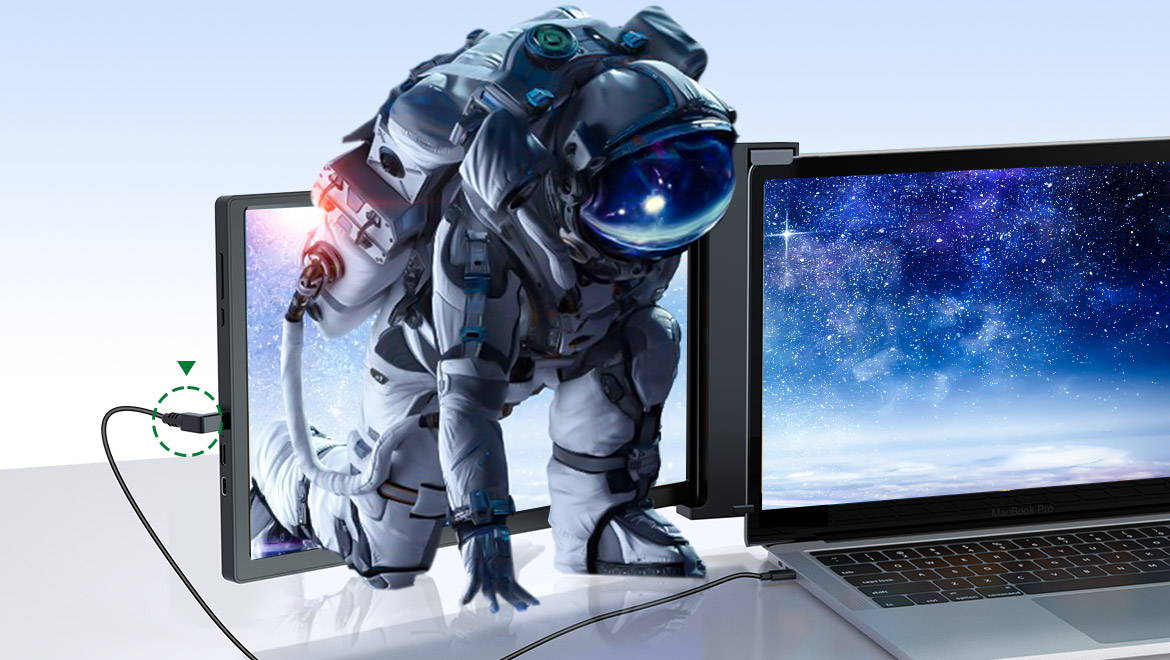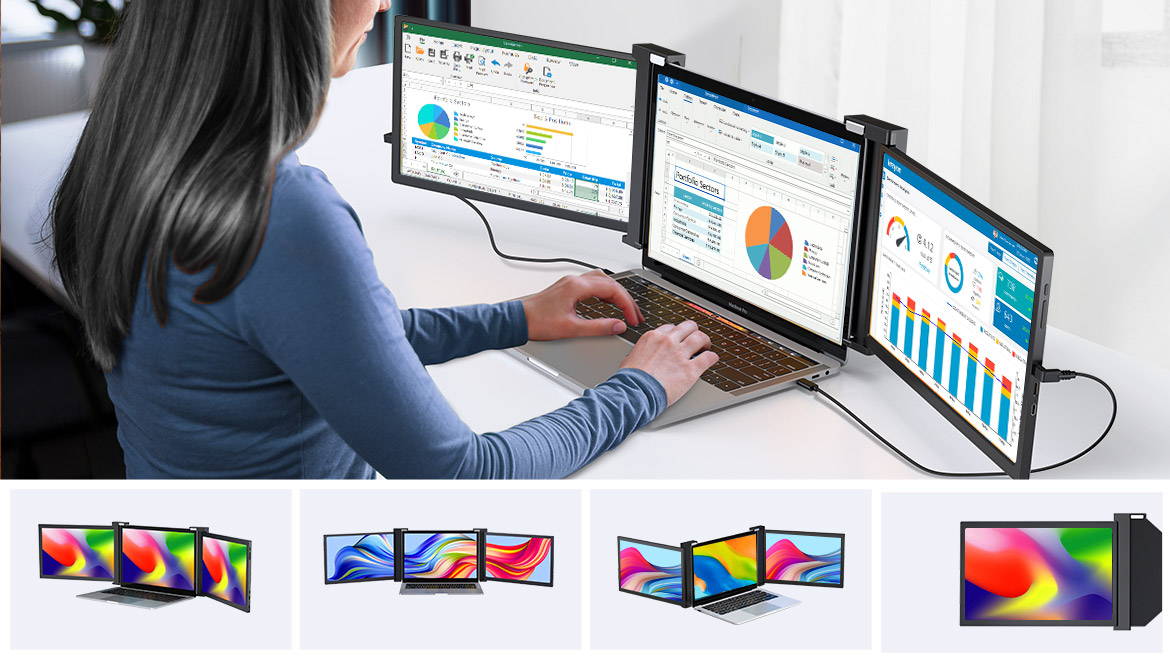 Laptop triple monitor gives users the greatest freedom to customize the desktop according to different tasks, 14 inch triple screen laptop monitor can achieve different applications in mirror mode, extend mode, dual screen mode, etc. for users' workstation at home, office even traveling outdoors.
Triple Screen Laptop Monitor Offers More Creative Space
The laptop tri screen is easy set up, simply hook it up to the top of the laptop screen. The back bracket holder can help to the display attached to your laptop without falling off. Better fixed laptop monitor extender use on both sides of the laptop.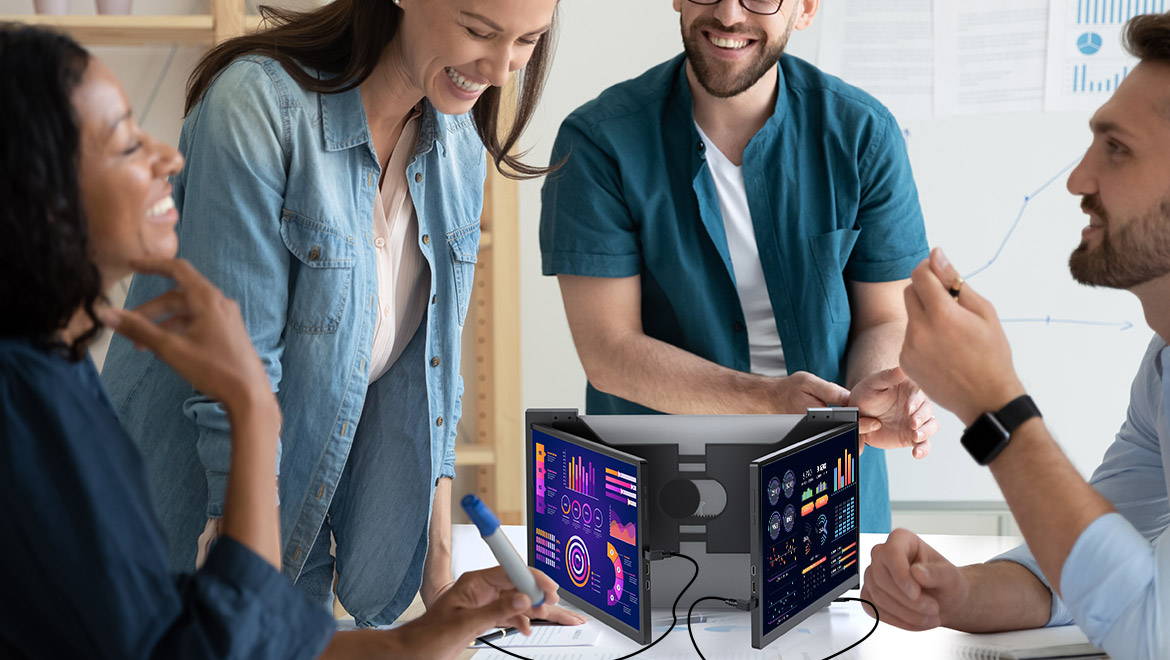 14-inch laptop monitor extender can give users more space to customize the work window, especially suitable for the presentation of various documents, operations, screen sharing, etc. A triple laptop screen is a good work partner for businessmen.
For users who often work with data, a laptop tri screen can make more use of the displayed content, which is beneficial to more detailed data analysis and calculation, and reduces the error rate. The laptop screen extender offers more desktops for data analysis.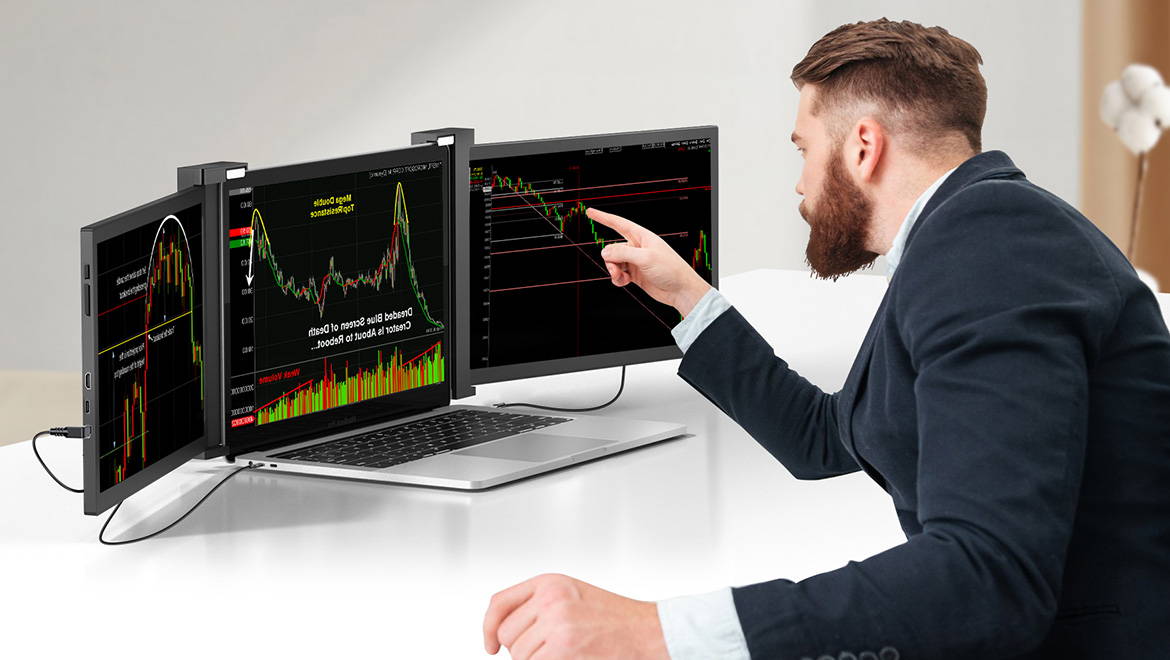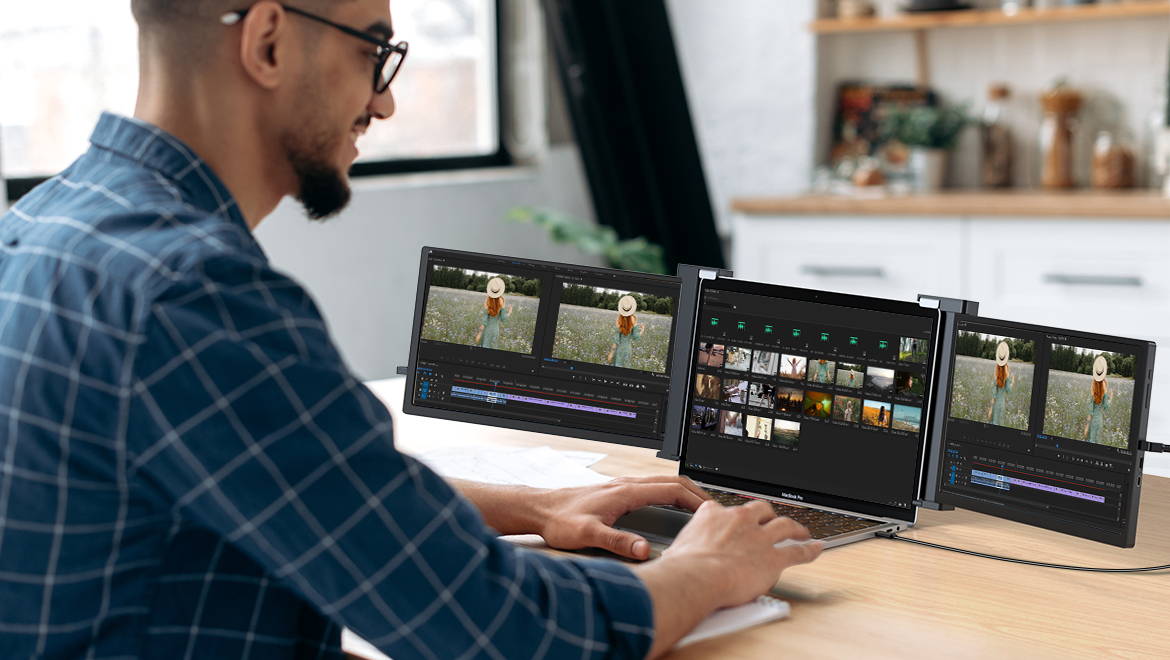 Multi-window work is often limited by the size of the laptop. For example, when a designer is editing a video or editing a picture, triple laptop display extender can release more working windows, let the burst of inspiration quickly turn into art.
14-inch laptop monitor extender with incredibly thoughtful designs. Visually, the built-in bracket of triple screen laptop monitor can better fit the laptop monitor extender on both sides of the laptop, the rotatable screen of laptop screen extender can make users at a comfortable angle, and release the sore neck.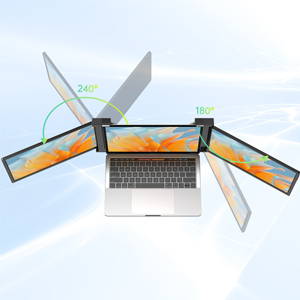 Easy rotate the laptop tri screen front to back, satisfying different needs on desktop or laptop. 14-inch laptop monitor extender allows users to look at the screen from the best angle.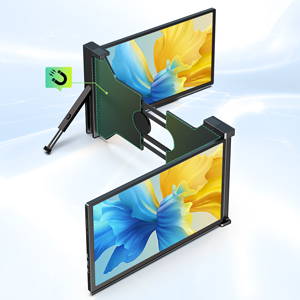 Secure fold and unfold design with built-in magnetic, ensuring the safety of the screen when carrying around. A foldable stand on the back keeps the laptop screen extender firmly on the sides of the laptop.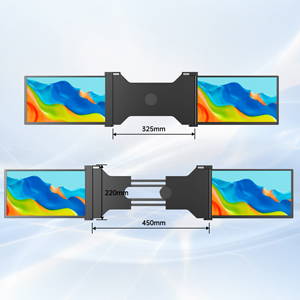 Multiple Screen Size Compatible
14 inch triple screen laptop monitor is suitable for devices that width is between 325mm (12.79 inch) and 450mm (17.72 inch). Kindly note the height of the laptop must exceed 220mm (8.66 inch). Double check your size to make sure it's compatible.
More Powerful
Beyond Your Imagination


1.45 kg (3.2 lbs)
Lightweight



Shipping 2-7 days from oversea warehouse or 15-25 days by international express.
Gain peace of mind with support in 24 hours and 2-Year Warranty
Take it home and enjoy them with no hesitate. Contact us within 30 calendar days for returns without hassle.
Shoppay is availble for 4 interest-free payments.
Join us on Instagram, share your set up and tag us, win discount or even cash back!